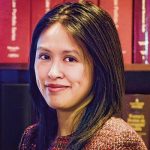 Pauline Yeung-Ha
Partner
Pauline Yeung-Ha is a Partner in the law firm of Grimaldi & Yeung LLP, concentrating in the practice areas of Trusts, Wills and Estates, Elder Law as well as Special Needs Planning, and is admitted to practice in both New York and New Jersey.
Ms. Yeung-Ha is currently a member of New York State Bar Association's Elder Law Section Executive Committee, and Vice-Chair of both the Diversity Committee and Membership Services.  She is also a member of the Estate Planning Committee of the Trusts & Estates Law Section. Ms. Yeung-Ha serves on the Board of Trustees of the Brooklyn Bar Association and is a Co-Chair of the Pro Bono & Community Service Committee of AABANY. She serves as Secretary on the Board of CaringKind, a non-profit organization in New York City.  She also serves on the Board of Directors of the National Academy of Elder Law Attorneys, NY Chapter, and a former member of NYSBA's House of Delegates.
Ms. Yeung-Ha has been named one of New York's Women Leaders in the Law (2012), New York Magazine's Best Lawyer (2012 to 2018), Super Lawyer's Rising Star (2011 to 2014), Super Lawyer (2015 to 2018) and NAPABA's Best Lawyer Under 40 (2011).  In 2017, Ms. Yeung-Ha was honored by General Human Outreach in the Community, Inc. for advocating for the special needs and senior population in the Asian community, and named 2018 Honoree of the Year by St. John's University School of Law chapter of the Asian-Pacific American Law Students Association (APALSA).
Sessions
September 22, 2018
9:00 AM - 10:30 AM
10:45 AM - 12:15 PM
4:00 PM - 5:30 PM