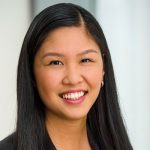 Tansy Woan
Litigation Associate
Ms. Woan is a litigation associate at Skadden. She has experience in a broad range of regulatory investigations and complex litigation matters involving securities, antitrust, shareholder derivative, breach of contract, and breach of fiduciary duty claims. Select representations include her representation of JPMorgan in several federal antitrust class actions alleging that foreign currency dealers conspired to manipulate benchmark currency exchange rates, a biotechnology company in a federal securities purported class action, a major New York hospital in a class action alleging fraud and breach of contract claims, and a financial services corporation in connection with high-frequency trading.
She also has an active pro bono practice representing survivors of domestic violence in obtaining orders of protection and assisting with related custody disputes. In 2016, she was honored at Sanctuary for Families' "Above & Beyond Pro Bono Achievement Awards and Benefit" for obtaining a 5-year order of protection on behalf of a client after an extensive trial and much motion practice. She also has an active amicus practice, including on behalf of a coalition of businesses in Texas v. United States in the U.S. Court of Appeals for the Fifth Circuit in 2015 (executive action on undocumented immigrants), on behalf of the Harvard Immigration and Refugee Clinical Program in Darweesh v. Trump in the Eastern District of New York in 2017 (executive action on immigration restrictions), and on behalf of members of Congress in the Southern District of New York, District of Oregon, and Eastern District of Washington in 2018 (administration of the Teen Pregnancy Prevention Program).
Ms. Woan clerked for the Honorable A. Richard Caputo of the Middle District of Pennsylvania and graduated from the University of Pennsylvania Law School.
Sessions
September 22, 2018
4:00 PM - 5:30 PM