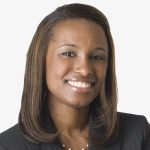 Simone Wilson-Brito
Partner
Ms. Wilson-Brito is Co-Chair of the Real Estate Practice Group at McCarter & English LLP. She focuses primarily on complex commercial real estate transactions with a concentration in the financing, leasing and acquisition of real property.
Ms. Wilson-Brito's leasing practice includes the representation of both landlords and tenants in the preparation and negotiation of office and retail leases. In her finance practice, Ms. Wilson-Brito represents both lenders and borrowers in connection with commercial and construction loans. She also represents purchasers and sellers in all aspects of the acquisition and disposition of real estate.
Prior to rejoining McCarter & English, Ms. Wilson-Brito was real estate counsel for The Rockefeller Group Development Corporation where she handled financing and real estate transactions for the company and its subsidiaries. Her responsibilities included negotiating leases, building contracts, licenses and other transaction documents relative to the company's development, management and ownership operations in New York, Florida, South Carolina and New Jersey.
Ms. Wilson-Brito is a member of McCarter's Women's Initiative Steering Committee, which presides over the policies that have led to McCarter receiving Gold Standard Certification from the Women in Law Empowerment Forum for five consecutive years. Additionally, Ms. Wilson-Brito is a member of McCarter's Diversity Committee. She is recognized as a New Jersey Super Lawyers "Rising Star" for 2016-2018.
Sessions
September 22, 2018
10:45 AM - 12:15 PM