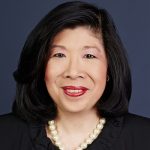 Margaret T. Ling
Senior Counsel
Margaret Ling is Senior Counsel at Big Apple Abstract Corp. where she underwrites and processes residential, commercial, and new construction projects throughout New York City and New York State. Her previous legal professional experience includes private real estate practice and Title Underwriting Counsel both on the Underwriter and New York State Agency Levels.
Margaret received her Bachelor of Arts degree in History, cum laude and Dean's List from Barnard College – Columbia University and her Juris Doctor degree from New York Law School.
Margaret currently serves as both the Development Director and Co-Chairman of the Real Estate Committee of the Asian American Bar Association of New York. . Margaret was also a former Board Director. In 2013, Margaret was awarded the AABANY "Most Valuable Player Award" for outstanding dedication and service to the legal community.
Margaret also is Co-Chairman of the Asian Practice Committee of the New York County Lawyer's Association; Member of the Executive Council of the Network of Bar Leaders; Member of the Korean American Lawyers Association of Greater New York; Member of the Nassau County Bar Association where she is active on the Real Property and Diversity and Inclusion Committees; Member of the National Asian Pacific American Bar Association; Member of the New York State Bar Association; and Member of the National Diversity Council.
Margaret is a Board Director of the Asian Real Estate Professional Association; Board Director of the Asian Alumnae Association of Columbia University; and a Former Board Director of the New York Law School Alumnae Association. She was the 2010 recipient of the New York Law School Award for Distinguished Service in Diversity and Progress.
Sessions
September 22, 2018
10:45 AM - 12:15 PM