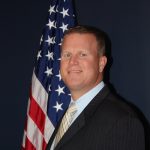 Major Joseph Conley
Deputy Staff Judge Advocate
Joseph Conley is the Attorney-in-Charge of the Suffolk County District Attorney's Office Tax Crimes Unit.  In his fourteen-year career at the SCDAO, Mr. Conley served in several investigative bureaus including the Economic Crimes Bureau and the Labor, Insurance and Revenue Crimes Bureau.  Mr. Conley helped create the Tax Crimes Unit in 2005 leading to the convictions of hundreds of defendants for wide-ranging violations of the New York State Tax Law resulting in the recovery of millions of dollars in lost revenue every year.  Mr. Conley previously worked at the New York State Department of Taxation and Finance as the Deputy Attorney-in-Charge of the Manhattan Special Investigations Unit from 2010 until rejoining the SCDAO in 2011. Mr. Conley represented the Department at administrative hearings, helped lead a proactive unit in the investigation of criminal and civil violations of the Tax Laws and developed training programs for auditors and investigators.  Mr. Conley was also cross-designated as an Assistant District Attorney for Queens County to prosecute preparer fraud cases.
Mr. Conley holds the rank of Major in the New York Army National Guard serving in the Judge Advocate General's Corp.  While deployed to Afghanistan in support of Operation Enduring Freedom, MAJ Conley served as the Command Judge Advocate to Training Assistance Group VII and Chief Legal Mentor & Trainer to Afghan National Security Forces at the Kabul Military Training Center.  MAJ Conley is currently assigned to 42 Infantry Division as the Deputy Staff Judge Advocate.
He holds a Bachelor of Arts degree from Keuka College and a Juris Doctor degree from St. John's University School of Law.   
Sessions
September 22, 2018
9:00 AM - 10:30 AM