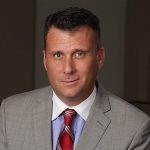 Major Charles Horn
Staff Judge Advocate
Charles Horn is a partner at The Russell Friedman Law Group, LLP with more than 100 verdicts to his credit. Beginning his legal career as a Deputy County Attorney for Nassau County, Mr. Horn went on to supervise the County's federal litigation unit. There he and his unit aggressively defended allegations of constitutional deprivations ranging from discrimination to the unlawful use of deadly force. After leaving the County to enter private practice, Mr. Horn was personally solicited by various municipalities to handle some of their most complicated matters.
During his 21 year career, Mr. Horn has developed an extensive practice representing individuals who have been subject to false arrest, malicious prosecution and excessive force. As trial counsel, Mr. Horn has secured verdicts as high as $5 million for his clients. With his foundation in the federal and state trial courts, he went on to expand his civil practice to include complex commercial litigation, RICO, health care related controversies and has been handling high profile litigation since that time.
While practicing in the private sector, Mr. Horn joined the United States Army as a commissioned officer in the Army National Guard Judge Advocate Corps in 2004. Shortly thereafter, he volunteered for active duty in Iraq. In recognition of his service in Iraq, he was awarded the Bronze Star, the Combat Action Badge, and the Army Achievement Medal. MAJ Horn is presently the Staff Judge Advocate for the 53 Troop Command with the New York Army National Guard. In addition to his private practice and military service, he is also the Deputy Village Attorney performing prosecutorial and general legal services for the Village of Lynbrook since 1998. Mr. Horn earned his Juris Doctorate from St. John's University School of Law in 1996 after earning two undergraduate degrees from Lehigh University in 1992.
Sessions
September 22, 2018
9:00 AM - 10:30 AM