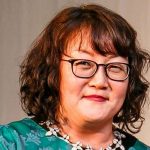 Jo-Ann Yoo
Executive Director
Jo-Ann Yoo is the executive director of the Asian American Federation, a pan-Asian nonprofit leadership organization that works to raise the influence and well-being of the pan-Asian American community through research, policy advocacy, public awareness, and organizational development. In her role, she oversees the organization's program operations and policy advocacy efforts.
Jo-Ann has nearly 20 years of experience in program management and operations, community development, and immigrant rights advocacy. Since taking the helm at the Asian American Federation, she has established AAF as a leader of the Asian American community at the community, city, and state levels through strategic programming, leadership convenings, and increased funding opportunities for Asian-led social service agencies.
In the past, she organized 200 small businesses in Flushing to advocate for increased city resources, a six-month advocacy effort that resulted in a funding increase of $1.4 million. She also managed a $227 million Lower Manhattan Development Corporation project in the aftermath of 9/11 to provide financial assistance to residents impacted by the event. Currently, she serves on the boards of the Nonprofit Coordinating Committee of New York and Robert Sterling Clark Foundation, and has also served on the board of the National Coalition for Asian Pacific American Community Development.
Sessions
September 22, 2018
4:00 PM - 5:30 PM