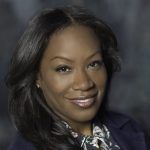 Djenaba Parker
General Counsel & Chief Talent Officer
Djenaba I. Parker currently serves as General Counsel & Chief Talent Officer for the New York Red Bulls of Major League Soccer.  
In her role as General Counsel, Ms. Parker advises on all legal aspects and best practices implementation relating to the Red Bulls MLS soccer franchise, its minor league soccer team and youth academy, as well as all stadium and arena operations at Red Bull Arena. As Chief Talent Officer, she oversees the development of human resources strategies in support of the Red Bulls' strategic direction, including in the areas of employee relations, talent acquisition, high performance, training and development, policy development, employment practices and compliance, and compensation.
Prior to serving in her current role, Ms. Parker was a Legal Counsel for Red Bull North America, the North American subsidiary of the global beverage company. Prior to joining Red Bull, Ms. Parker practiced as an attorney in the Banking and Institutional Finance department at two international law firms. She began her career as an assurance and audit associate at PwC.
Ms. Parker is a graduate of Georgetown University's McDonough School of Business, where she received her B.S. in Accounting. She received her law degree from the University of Southern California Gould School of Law. Outside of work, Djenaba has served as a guest lecturer in the Columbia University/ISDE Dual Masters in Sports Law and Sports Management Program, and she is passionate about causes such as equal rights and access to education.
Sessions
September 22, 2018
2:15 PM - 3:45 PM