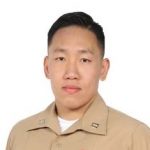 Captain Vincent Ku
Captain
Captain Vincent W. Ku is the Senior Officer of the Legal Assistance Branch, Legal Support Section East (LSSS-E) aboard Camp Lejeune, North Carolina.  
A true New York City native, Capt. Ku is a graduate of The Bronx High School of Science and New York University.  Prior to attending University of Miami School of Law, Capt. Ku spent several years as a real estate agent in Manhattan.
Prior to his current billet, Capt. Ku served as the Deputy Staff Judge Advocate at Marine Corps Recruiting Command, Quantico, Virginia, and as a Defense Counsel at LSSS-E, Camp Lejeune, North Carolina.  During his time as a Defense Counsel, Capt. Ku represented over 50 service members at General and Special Courts-Martial, 10 officers at Boards of Inquiry, and over 210 Marines and Sailors at Administrative Separation Boards.
Sessions
September 22, 2018
9:00 AM - 10:30 AM