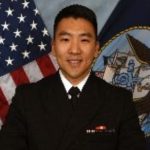 Lieutenant Brian Yang
Judge Advocate General's Corps
Lieutenant Brian Yang was born in Los Angeles, California, and grew up in Orange County, California.  He attended the University of California of San Diego in 2006 and graduated in 2010 with a Bachelor of Arts degree in Political Science.  After graduating from undergraduate school, he went overseas to Beijing, China for one year through a non-profit organization, where he spent the year working in an orphanage, building shelters, and teaching English.
LT Yang earned a Juris Doctor from Loyola Law School of Los Angeles in 2015, where he served as a Staff Member and Technical Editor on the Loyola of Los Angeles Law Review, and as a Social Chair for the Asian Pacific American Law Student Association.  LT Yang also worked as a judicial extern for the Honorable Gary A. Feess in 2013, and a law clerk for the Los Angeles District Attorney's Office Appellate Division in 2015. He is licensed to practice law in California.
LT Yang was commissioned in June 2015 under the Student Program.  He graduated from Officer Development School in November 2015 and graduated from Naval Justice School in March 2016.  From March 2016 to April 2018, LT Yang served as a trial counsel at Region Legal Service Office Naval District Washington, Staff Judge Advocate at Office of Naval Intelligence.
Sessions
September 22, 2018
4:00 PM - 5:30 PM