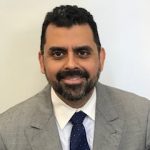 Steve Madra
Vice President of Policy and Regulations
Steve Madra is Vice President of Policy and Regulations at Global Dynamic Group.
He has expertise in international trade and commercial litigation. His recent consulting work includes establishing legal frameworks and public policy approaches for autonomous vehicles.
He has successfully drafted and argued an appeal before the Appellate Division, Second Department on issues dealing with successor and products liability. On behalf of the Commercial and Federal Litigation Section, Commercial Division, of the NYSBA, he co-authored a report on sealing business records which was unanimously adopted by the Executive Committee of the NYSBA.
He was a moderator and panelist for a discussion titled "Law and Disruptive Technologies", for the NAPABA Northeast Regional Conference. The panel discussed the implications of government action/inaction on emerging technologies. He was also a panelist on Policy Issues relating to Connected Vehicles for the 5th Automated and Connected Vehicles Conference, held at NYU Tandon School of Engineering. In addition to his legal practice, he provides pro bono legal services to numerous charitable institutions. For example, he drafted by-laws for various South Asian organizations and aided a Cantonese only speaker victimized in a Ponzi scheme.  Additionally, he guided advocacy organizations in the aftermath of the Oak Creek shooting.
Sessions